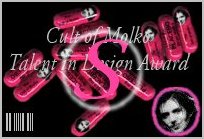 Award for sites with great design!
Current pick:
mookid loves Bowie
http://www.mookidlovesbowie.com
Designer: mookid
Description: A Bowie site. Not just is it a Bowie site, but a database of pictures, media, interviews, and downloads mookid makes herself such as winamp skins, windows start/shut down screens, desktops, and windows icons. All that content inside her great design is why she deserves this award.
Awarded on Sunday, February 26, 2001.
Past picks:
http://stitch.i85.net
* please email me if you know of a site in the ring that is worthy of the award or own a site that is in the ring and is worthy of the award as its hard for me to keep track.